Today is Sunday, which means it's time for a more difficult question and double points. And time to find some Kaizer songs! The following grid contains lots of song titles - or actually words that make up song titles.

Your job now: find all the hidden words (they can overlap and can be used more than once), put them together to form Kaizers Orchestra song titles, and count the number of complete titles that you find.

The words are hidden forward, backward, upward, downward, or diagonally. Some titles need a "&" or "og" to be complete - count these songs as well although there is no "&" in the puzzle.

Important: Take your time! It's better to be the last one with the correct answer than to be the first with a wrong one ...
Answer with the number of song titles! (Do NOT list the songs.)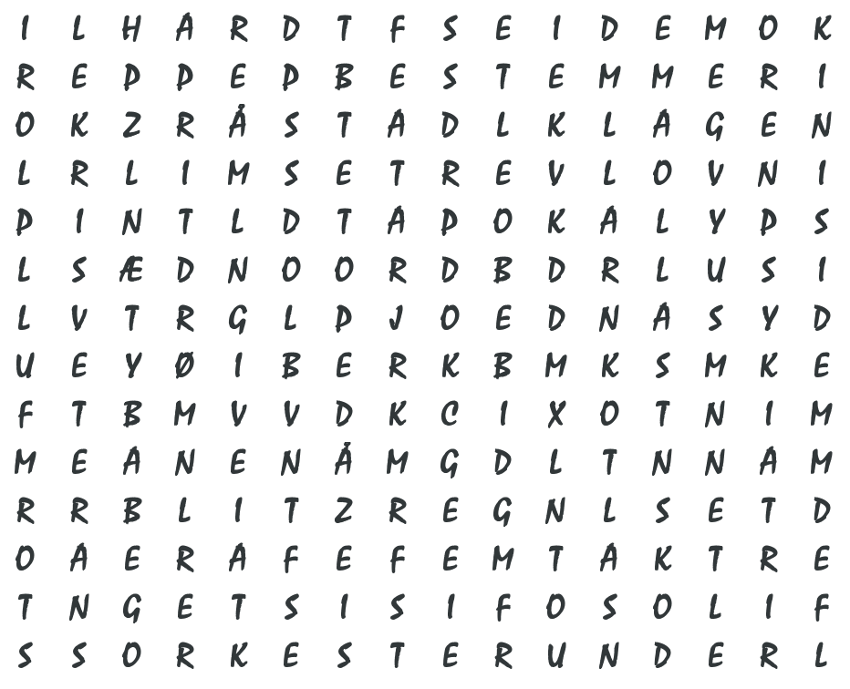 The correct answer:
24
The following songs were hidden:
Apokalyps meg
Blitzregn Baby
De involverte
Dekk bord
Di grind
Die Polizei
Djevelens orkester
Drøm hardt
Evig pint
Femtakt filosofi
Gresk komedie
Markedet bestemmer
Medisin & psykiatri
Ond sirkel
Salt & pepper
Siste dans
Smil far
Stormfull vals
Støv & sand
Til depotet
Toxic blod
Under månen
Veterans klage
Våre demoner
And where? Thanks for the picture, kennyneth!
(By the way, I accepted the answer 25 as well, because you could consider "Ni mm" to be a Kaizers song as well - even though it would have to be "9 mm" or "Ni millimeter" to really be correct.)
24% (of 135) answered this question correctly.